A prime example of EnviroTechs' ability to produce extremely complex, void free, structurally sound injection molded products are the parts we produce that are used as fluid and chemical pumps. Our engineering staff has decades of experience contributing to the design of injection molded pumps, pump components and valve components for the largest industrial companies in the world. We have perfected each step of the process, from design through functional testing to ensure that our products are able to be utilized worry free and without inspection when our customers receive them. We also offer post molding processing through our machining areas to ensure that the pump component and valve surfaces that require the utmost precision are produced to our customers exacting specifications. Our quality department and operators work in unison to facilitate real time in-process inspection via our two large traveling CMM machines.
Because of our extensive experience, engineering capability, and unique proprietary processes Envirotech is considered a leading expert in the production of PVDF components. Our dedication to staying on the cutting edge of the pump and valve industry is evidenced by our recently announced capability of molding PFA (perflouroalkoxy). PFA (perflouroalkoxy) is the thermoplastic successor to PTFE and provides excellent chemical and thermal resistance. PFA outperforms PTFE in various ways including improved surface finish, increased yield strength, and flex modulus. Due to the exceptional properties of PFA, it is often used in semiconductor and pharmaceutical industries. Now EnviroTech's customers in the pump and valve industries can take advantage of this material as well. Our engineering group worked closely with our material suppliers to make it possible to use PFA in the manufacturing of large scale injection molded products.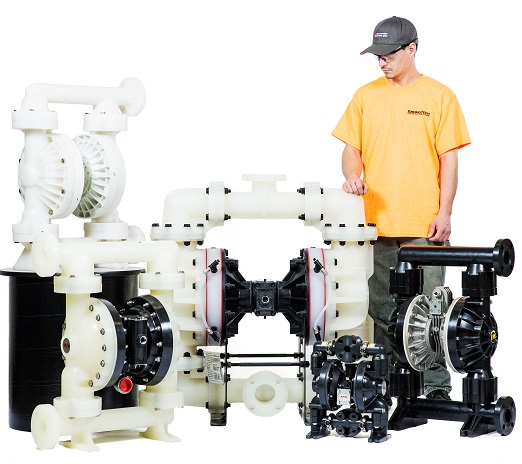 Materials
Materials used for pump and valve components includes, but is not limited, to polypropylene, glass filled polypropylene, PVDF,PFA, PEEK, Nylon, HDPE, MDPE, and PVC.
Here are some of the pump components that we produce for industrial markets:
Air Diaphragm Pump Components
Fluid Manifolds, End Caps, Diaphragm Nuts, Complex Air Chambers and Air Motors.
Range in sizes from ½" to 3" Diaphragm pump components
Wide range of material possibilities
Complex and intricate designs
Moldable Inserts
Void Free
Pneumatic & Hydrostatic tested to 120 psi
Centrifugal Pump Components
Volutes and Impellers
Range in sizes from 4" to 24" centrifugal housings and impellers
Wide range of material possibilities
Complex and intricate designs
Void Free
Magnetic Drive pump chambers
Chemical metering pump housings